Student Spotlight: Dana Golden
Making the Transition from Medical School to the Navy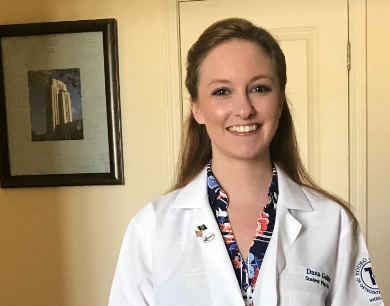 Dana Golden
TouroCOM-Middletown Student Dana Golden (OMS-II) highlights what she hopes to learn and contribute to the medical field while serving her country.
1. What motivated you to enlist in the U.S. Navy? What are you hoping to achieve?
My relationship with the Navy actually began as a civilian contractor when I got my first full-time job after graduating college. I worked in a basic science lab in Maryland, alongside Navy physicians and residents, who were researching how best to care for soldiers who were suffering from traumatic and debilitating injuries. They were so motivated to solve what science had failed to explain thus far and wanted to make sure that the highest level of care was provided to those who risked everything for our country. That was truly inspiring to me. I was project lead in developing a lot of the protocols, in conjunction with my department head, and was so honored to learn from him. He played a large role in my career decisions and helped me every step of the way to get where I am today. The military has often been described as a tight-knit family and I certainly agree with that assessment.
Being part of the Navy is more than just being in the military or becoming a physician, it's giving back to everyone who has supported me in this journey and hopefully, contributing something profound to military medicine that truly impacts the lives of everyone serving.
2. What steps were required to receive a military scholarship for future service?
In order to receive this critical scholarship, I had to submit an application that included my acceptance to medical school, undergraduate transcripts, a resume, an essay detailing my motivation to serve and a physical exam. It was a lengthy process filled with a lot of paperwork but ultimately, it was worth the effort and patience. A board meets once a month to review applications and either recommends your acceptance, holds your application for a second review at the next month's board or denies your application. My application was held after the first board meeting and sent for acceptance at the second one.
3. Why was important to you to become President of the Touro College Armed Forces Medical Club of Osteopathic Medicine?
The Armed Forces Club at Touro is relatively new, only starting last year when a group of students realized the need for a community on campus. I wanted to raise awareness of the club and bring our efforts into the local community of Middletown, NY. It is a club open to anyone, offering information on the scholarship itself and the process of residency application. Becoming president of this club was important because I want to make sure it continues to grow and inspire more students to consider the military as a training or career option in the future. I probably have helped about five students make the decision to consider joining this year. There are a lot of misconceptions about the military, especially as a woman, that I think are outdated and deter people from thinking of it is an option. Because I worked so closely with the military, I wanted to be able to share my experience and help other student's transition into military life.
4. What are you hoping to learn while serving?
I want to be trained to become an incredible physician and leader. The physicians I worked with in the research lab and the hospital were not just physicians, they were innovators looking to improve medicine for the next generation of doctors and patients as well. The military has unique opportunities to tour the world and practice medicine in a way that I would not see as a civilian. To truly understand what our soldiers encounter and how important it is to continue improving combat care in the medical field are goals of mine. Like those who came before me, I hope to learn and contribute so that the next generation will have more opportunities in military medicine.
5. What skills have you been taught at Touro that you are hoping to leverage in the Navy?
From day one, Touro College expects that you are embodying the traditions of an osteopathic physician. We learn the importance of evaluating and treating patients as a whole. Our osteopathic manipulation labs are geared towards making sure that we are competent and confident in our abilities to heal with our hands and our minds. Being a Doctor of Osteopathic Medicine (D.O.) may not be unique to the military, but I am hoping to integrate a lot of my training while I serve. The campus I attend in Middletown is relatively new, graduating its first class in 2018, and is a small community of students and faculty that I have become very close with.