Serving the Underserved
15 TouroCOM Middletown Students Visit Haiti on Medical Mission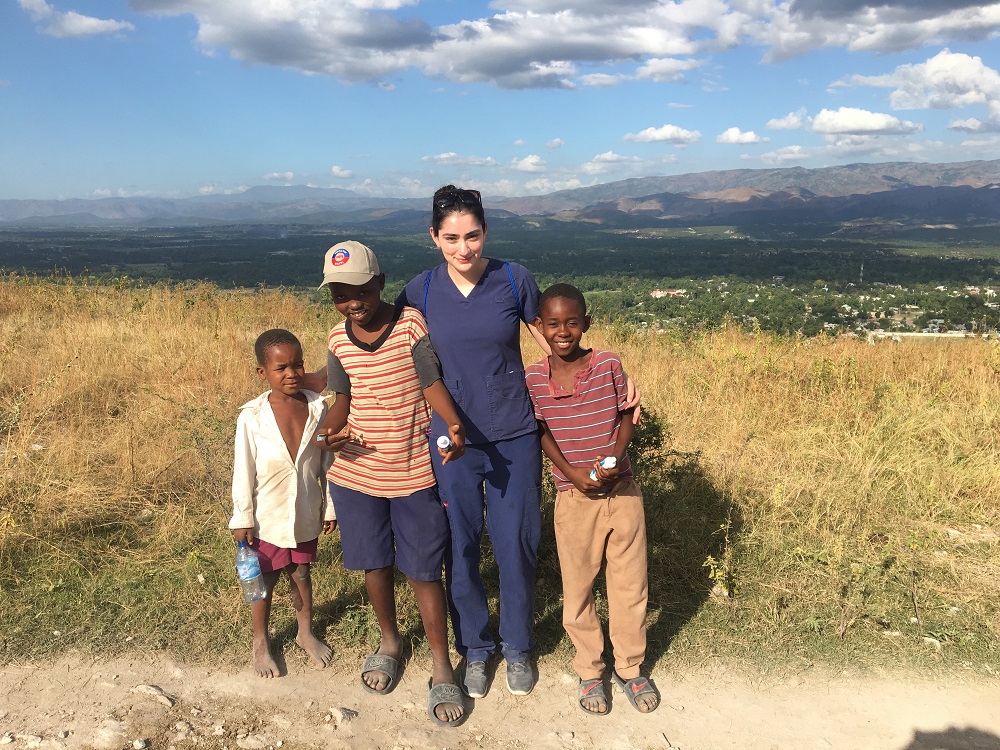 TouroCOM Middletown students joined a medical mission to Haiti in December.
TouroCOM Middletown student Cassandra Garraud, a first generation American, grew up hearing stories of her parents' life in Haiti. But only in December was she finally able to visit her parents' homeland.
"I was able to put images to the stories my parents told me," explained Garraud, the vice president of TouroCOM Middletown's International Medicine Club, who spearheaded the mission. "It was a kind of homecoming for me."
Garraud and 14 other TouroCOM Middletown students visited Haiti for five days with Medical Student Missions, an organization that helps medical students and aspiring medical students provide healthcare to the citizens of Haiti. In the five days the group visited, they, along with 25 other students and several other physicians, saw close to 1000 patients.
"It's such a beautiful place with gorgeous people," said Garraud, who added that her parents' tales of medical hardships in their native country led her to consider a career in medicine. "But it's heartbreaking to see such beauty juxtaposed with so much poverty."
Kunal Chaudhary, president of the TouroCOM Middletown International Medicine Club, said the trip fulfilled both the club's mission and TouroCOM's larger goal. "As future osteopathic doctors, our mission is to serve the underserved, both domestically and internationally," said Chaudhary. "Going on a trip like this allows us to know what kind of challenges certain communities have."
The group stayed three hours outside of Haiti's capital Port-au-Prince. Each day they rose early in the morning and manned a mobile clinic that travelled to different regions in the country. (On more than one occasion, the trip was a several hours hike to a remote village.) Once stationed, the group would break up into smaller teams to diagnose and provide basic treatment to the hundreds that came to the clinic. The initial diagnosis was then evaluated by a supervising physician. (TouroCOM Harlem alumnus Dr. Shyam Patel was among the physicians.)
"We would write up their basic health history and afterwards we'd come up with a diagnosis," said OMS I Anupam Gupta, who was part of the trip. "We'd present our diagnosis to one of the physicians and once they would hear the symptoms, they would tell us if we missed anything."
Other group members gave out basic medications to patients. The group saw cases ranging from anemia and hyper tension to rarer disorders like tricuspid valve prolapse. Ulcers and malnutrition were common.
"Since we're in our first year, we don't get that much clinical experience," said Gupta. "But on the trip, I realized that what I saw in our textbooks was what we were witnessing."
Garraud said that at first the task seemed daunting.
"The physicians who ran the trip really pushed us to come up with plans for the patients," she said. "We were put on the spot. I had a pregnant patient and there was no ultrasound. I had to remember how to measure her abdomen to know how far along she was. Afterwards, we needed to figure out what kind of antibiotic she could take. It made me think and put together all the information I learned over the year. At first, it was nerve wracking, but by day 3 everyone was working independently."
Gupta said some of his patients had sexually transmitted infections.
"The physician decided the best treatment option for the patient was an injection and antibiotics," he recalled. "I had never given an injection before, but in that moment, I was ready to do whatever was needed for my patient. With the physician's guidance, I learned how to prepare and administer my first injection."
Frequently patients sought treatment late into the night, visiting the students at the villa where they stayed. On the group's last day, they saw a thin child with his abdomen protruding out of his shirt. The boy and his mother visited the clinic later and the boy was diagnosed with a severe case of splenomegaly, an enlarged spleen, a possibly fatal condition. Treatment options were limited because of how poor the family was and how far away the nearest hospital was. At dinner the group discussed the child's situation, and everyone pitched in ten dollars for the necessary surgery.
"I started crying because I knew this meant he would be able to get the surgery," said Garraud. "I still think about him. The trip reminded all of us why we are becoming doctors."