Middletown Community Welcomes Class of 2022 TouroCOM Students
Community Connect Program Places Students with Rotary Club Families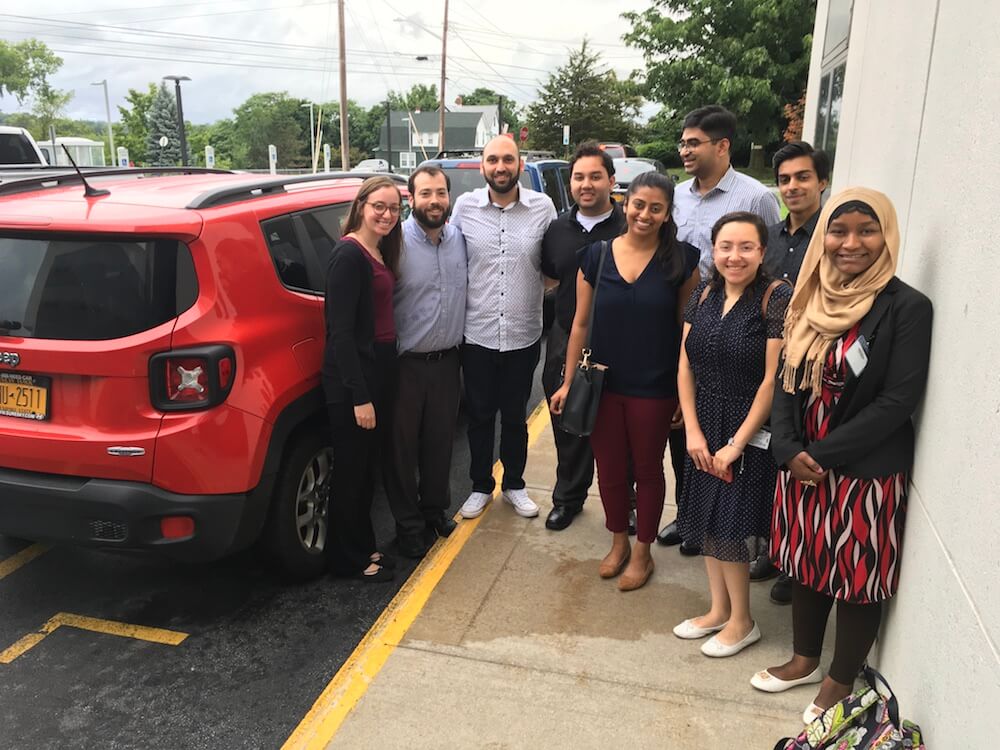 First-year students at TouroCOM Middletown met with local families during their orientation week as part of the TouroCOM Middletown Community Connect program. The program was organized by the Rotary Clubs of the Mid-Hudson Valley.
First-year TouroCOM Middletown students received a taste of home courtesy of the Rotary Clubs of the Mid-Hudson Valley.
More than 75 students from TouroCOM joined families from the Rotary Club for a meal on July 25 during the school's orientation week.
"The most important thing we can offer our first-year student doctors is a sense of family, a commitment to volunteerism, and the ability to learn their skills as a doctor through the lens of community needs," stated Dr. Jerry Cammarata, TouroCOM Chief Operating Officer and Dean of Student Affairs.
TouroCOM Middletown librarian Jennifer Santos, a member of the Rotary Club, helped organize the event along with TouroCOM social worker Lenora Koffman.
"Our intent was to connect students with the community where the students will call home for a few years, and to encourage students to connect with community members," said Koffman. "Friendships can last a long time, even after our students graduate."
The program is expected to be offered each year for first-year students, and students are able to reach out to their "families" throughout the year.
OMS I Michael Bonafede was one of the students who participated. Rotary Club member Sean Burke took Bonafede and a fellow student out for dinner. They were joined by Burke's family mid-meal.
"The Burke family was so welcoming," said Bonafede. "It's kinda like having a foster family since most of us are pretty far away from our real families. A support system is really important to us especially considering how stressful medical school can be."
The program especially appealed to out-of-state students.
OMS I Katie Goebel, who came to TouroCOM from Kansas via college in Memphis, was supposed to barbecue with a community member, but when rain cancelled the barbecue the three went to a restaurant.
"It was really great," said Goebel. "I learned a lot about the area. It's nice to talk to someone who isn't a student. I know half of my conversations are basically about medical school."
OMS I Lethicia Paul came to TouroCOM from Florida. She and a classmate had dinner with rotary member and TouroCOM Middletown professor Jennifer Vazquez-Bryan.
"We met her husband and her three kids," said Paul. "We talked a lot about the area… It was a great way for students to feel welcome—especially those of us who came from another state. It was nice to eat with someone's family and see how life is like here."
Heidi Volpe, president of the Minisink Valley Rotary Club, hosted several students.
"As the parents of three college students, we were thrilled to provide a personal connection for the students at TouroCOM," said Volpe. "Local families can provide the students with Sunday night dinners, advice about area attractions, connections with volunteer organizations and emotional support when they feel overwhelmed. By partnering with the local Rotary clubs comprised of local business owners, professionals and dignitaries, I think that the students were able to form strong community bonds that will hopefully last long after their education is completed."
Dr. Keneth Steier, dean of TouroCOM, said that the event was a continuation of the warm reception TourCOM has received from the community.
"From the time we started the medical school in Middletown, the community has been amazingly supportive of our students," said Dr. Steier "This is another example of how the Middletown community embraces our TouroCOM students."