Gabrielle Rozenberg Named TouroCOM-Harlem's Student D.O. of the Year
In announcing her as the 2016 Student D.O. of the Year, TouroCOM-Harlem Dean Robert Goldberg recognized Gabrielle Rozenberg "as a role model for all students."
Gabrielle S. Rozenberg is TouroCOM-Harlem's Student D.O. of the Year
When Gabrielle Rozenberg heard she was selected as TouroCOM-Harlem's Student D.O. of the Year, she was "both extremely honored and humbled."
"I know some of the former winners, and to be considered in the same regard as them…it's very humbling. I've worked pretty hard in medical school—not for the recognition, of course—but to see that it's recognized anyway by my peers is a huge honor."
For Gabrielle, "working hard" started long before medical school. The Long-Island native graduated from the University of Pittsburgh in 2010, where she majored in History and the Philosophy of Science, and minored in chemistry. During college she worked as an RA, and subsequently Program Director, for the Office of Residence Life. After graduating, she took two years off to get her feet wet in the medical world, dividing her time between working as a medical assistant for patients undergoing post-surgical recovery, volunteering in Chestnut Hill Hospital's radiology department, and working as a legal assistant for a personal-injury law firm. "I think, for medical school, you have to be one hundred and ten percent certain that this is the right career for you," she laughs.
And certain she was, when she entered through the doors of TouroCOM-Harlem in 2012.
"It's been wonderful," she says. "I always knew I was getting a really high-quality education—I think we have the best professors out there. I think the community enhanced so much of my experience, as well. Participating in the Harlem community, and out of it, was extremely rewarding."
Besides for regularly volunteering in the biannual Community Health Fairs and Harlem soup kitchens, Gabrielle was actively involved as a mentor in Be One Teach One, a student initiative (founded by two TouroCOM-American Medical Women's Association students in 2008) in which medical students invite high-school aged girls to explore various career paths in science and medicine.
But perhaps her most impactful volunteer experiences, she says, were her visits abroad to Peru and Nicaragua, where she assisted medical staff in the (sometimes makeshift) medical clinics. "Those were some of my favorite experiences in medical science," says Gabrielle. "One, we got to see parts of the world you never get to see, and two, as future D.O.s, we were able to bring real sustainable health care to these communities." Though conditions were hard ("in Nicaragua, we occasionally had to travel by boat to the clinic, and we sometimes spent our nights in a tree house") Gabrielle saw, firsthand, the impact of OMM during those trips.
"Say a patient came to us with low back pain. We could have given him 10 Ibuprofens—that we brought from home—to take away the pain for a week, but what about after that? So we'd treat patients with OMM, incorporating traditional medicine with manipulation to create a full-spectrum health care plan for these rural communities."
"Community" is a buzzword in conversations with Gabrielle—if her life were a song, "community" would be its chorus. Whether in Pittsburgh, Peru, Harlem, or Nicaragua, "being a part of community, creating a happy and healthy environment for the people around me, was very important to me….to create a sense of union, which is greater than the single act you're doing—to be a part of something more than just healthcare—is very special."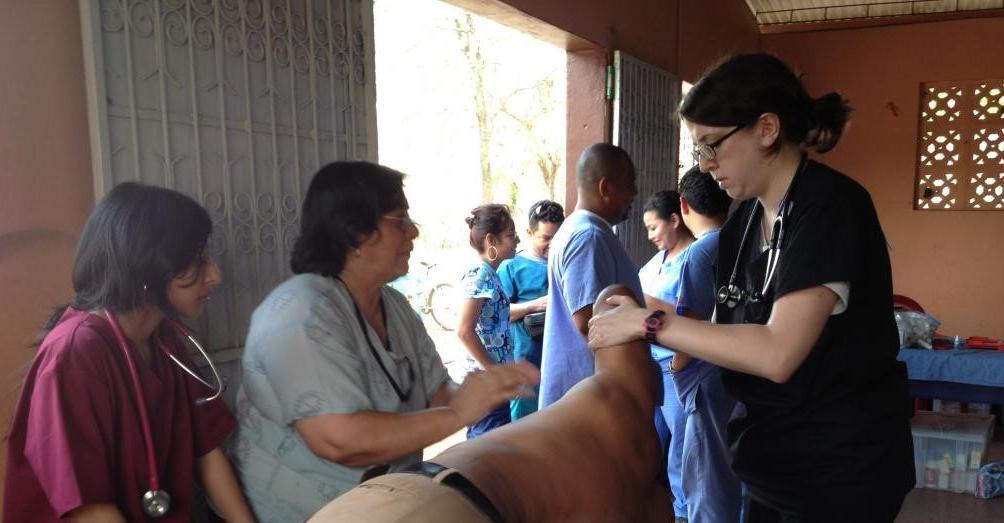 Gabrielle Rozenberg, right, performing OMM with the help of TouroCOM Professor Dr. Vasconez-Pereira (left) during a Global Medical Training mission in Nicaragua.
In the same vein, Gabrielle never turned down the opportunity to be an active member of her social, and peer, community as well—starting from her first month at TouroCOM, which is when she joined the Brooklyn-based Grand Street Community Band. A percussionist since she was eight, Gabrielle loved the opportunity to keep making music while studying medicine. (The all-volunteer group of musicians even performed in Carnegie Hall in June 2015, an experience Gabrielle admits was "pretty spectacular!") In her second year, Gabrielle served as Vice President of the Student Government Association, and she worked as a TA for the Department of Osteopathic Manipulative Medicine. "I've always been passionate about OMM, so it was a great opportunity to pass that passion and knowledge down," she says. Coincidentally, it was growing up with D.O.s in the family—"who were very inspirational to me and enabled me to grow up with OMM and osteopathic medicine," she says—that originally motivated Gabrielle to choose the osteopathic route.
While in medical school, Gabrielle also contributed to the greater osteopathic medical community on a larger scale, helping advocate for thevoice of osteopathic students in three capacities: as a Student Delegate for the New York State Osteopathic Medical Society, as the National Legislative-Affairs Representative for the College of Osteopathic Student Government Presidents (COSGP), and as the National Director of Omega Beta Iota. (Gabrielle achieved Gold-level recognition—given to students who complete over 100 hours a year in osteopathic-related community service—in the COSGP-affiliated TOUCH program.) "I can't speak enough about how great it's been these past few years. Even now, in my clinical rotations, though we've spread apart geographically, the bonds I've created with my peers, classmates, and fellow osteopathic students have remained strong," she says.
Currently, Gabrielle looks to the future with a bright eye. She's currently applying for family medicine residencies, as she hopes to become a family physician. "I look forward to practicing OMM, I hope to stay involved in medical advocacy and academic medicine, and I hope to continue passing all of it on to the next generation."
In announcing her as the 2016 Student D.O. of the Year, TouroCOM-Harlem Dean Robert Goldberg recognized Gabrielle "as a role model for all students."
"Gabrielle came to TouroCOM with undergraduate distinctions and she has demonstrated an exceptional experience in leadership, service, community service and research at local, state and national levels," he said.