Dr. Smith Goes to Washington (with AOA)
TouroCOM students headed to the Hill to advocate for their profession at AOA's DO Day on the Hill.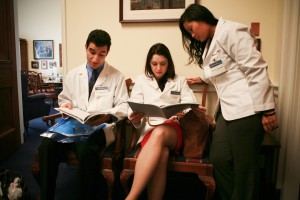 TouroCOM dean, Dr. Goldberg, and TouroCOM students Raphael Jaramillo OMS-I, Johanna Javier OMS-I, Ali Abdallah OMS-II, Hunter Vincent OMS-I, Theo Youn OMS-I, Oday Abdallah OMS-III and Eva Li OMS-II attended DO Day on the Hill.
Some of the students shared their thoughts on DO Day.
Theo Youn, OMS-I
My experiences on D.O. day has been quite an unexpected but unique and pleasant surprise. As I read up on the briefings and how the whole process was going to take place I had a pretty generic perspective in that I believed I was just a minuscule member of the AOA association and that as my first year on Capitol Hill I would just be at an 'observation and listen' standpoint. Little did I know how much of an impact each individual can make by voicing and expressing the passions of our profession and very little did I know on how much Congress did not know about the current crisis of our future physicians.
During the morning as all the physicians and medical students congregated for the morning briefing, every one was assigned into groups to meet with the Representatives of our district. The unique experience I had was the great opportunity to actually have a one-on-one meeting with my Congressman who also happened to hold the second highest position in the House of Representatives, Majority Whip. It was rather nerve-racking at first but once we were allowed to find a common bond, the meeting became less formal and more of a personal conversation in regards to our childhood experiences in Bakersfield. We had so many common connections from going to the same high school and college that it allowed me to fully express and explain the role of Osteopathic medicine and became even more encouraging for Congressman McCarthy to want to hear more.
The magnitude of the meeting became even greater for me when I realized a majority of the AOA members only had an opportunity to meet with the Aides or Assistants of the Representatives and Senators. Allowing me to really appreciate the opportunity I was given and further encouragement to continue advocating for our cause.
Raphael Jaramillo, OMS-I
Before, I had never been to Washington, DC. It was an opportunity to see the capital and more importantly, to become involved with the future profession I had chosen to endeavor in. The experience was exciting to say the least. I felt as a component to a greater cause, and felt that the spokes of our legislature were cranking away with each meeting I attended. Speaking intimately with senators and representatives gave me a fighting spirit and a future goal to tread towards in my life as a physician. In that afternoon, I attended three meetings, all with favorable outcomes. Some of the congresspersons weren't even aware of the issues presented to them. It was almost a satisfying feeling to see how convinced they were by the end for the concerns we had.
Another aspect I enjoyed was connecting with other students from different schools. It gave me a brief overview of how alike we all are. We spent many moments on the way to our respective meetings in good conversation, or just plain throwing medically-related jokes around. It gave a sense of how unified we all are and made me feel like I was part of a big family.
I once felt as many medical students feel, that if we just study hard, clock in our volunteer hours and pass our boards; that everything should just fall right into their lap. However, it is not how this country works. It took a day trip like this to see the clear and present concerns the Osteopathic profession is facing; whether it be from the changing health care system or contenders within the profession. Overall, students and faculty as a whole must do what we can, while we can to pave the path ahead for us and the generations to follow.
It was one of my deepest concerns that more students did not attend. It felt like the few of us that did go were more concerned about pressing issues and were standing in the gap for the rest of our school. I had taken photos to help raise awareness and to hopefully get more students involved in the next coming years. Dare I say, if we do not mobilize, there may be no future for any of us.
Johanna Javier, OMS-I
As a first year medical student, attending DO Day on the Hill for the first time, I wasn't aware of the issues that concerned me as a future physician. However, after attending DO Day, I now realize the importance of having students lobby for the issues that concern them. And the impact that one student can make.
As a resident of Hawaii, I was given the opportunity to speak with Representative Hanabusa, personally, about the issues concerning medical students. One issue that was discussed during our meeting was about the shortage of residencies, especially in Hawaii. With such a shortage, it limits the possibility of students studying medicine away for Hawaii to return back to Hawaii and provide health care for the community that inspired them to get into medicine in the first place.
I was also given the opportunity to meet with Representative Maloney's legislative aid, Senator Schumer's health legislative assistant, and Senator Gillibrand's health legislative assistant. During each meeting, we spoke again about the need for more residency spots and primary care physicians. I know our attendance has made a difference.
Hunter Vincent
Participating in DO day provided me with a larger perspective on the significance of the osteopathic community. I felt connected to a much larger purpose, one that aspires to progress osteopathy in the medical industry. I gained insight into the difficulties that the medical industry will face in the future, and learned about ways to become involved in protecting our futures as physicians in this country . Overall, the experience as inspiring, and motivated me to take an active role in my own personal future and the future of osteopathic medicine.
Ali Abdallah
DO Day on Capitol Hill is one of the best opportunities for osteopathic medical students to advocate for their profession and connect students and leaders from all over the country. Over 1100 osteopathic medical students participated, and the sea of white coats in the room during the morning briefing, and all over Capitol Hill, was a testament to that.
Most of my meetings with congressional leaders and staffers were of the small-group setting, something that I feel was very effective. I felt a personal connection and was able to share my personal experiences. One particular highlight was a meeting with Representative Charles Rangel's Health Policy Fellow, who spent nearly an hour with us discussing the issues. I was able to talk to her about my experience as a medical student in Harlem and how much our students are involved in the community. I felt that sharing this experience was important in giving a human side to the equation, especially at a time when much of the debate on health policy is centered on numbers and statistics.
Participating in DO Day on Capitol Hill left me inspired and I am grateful to have been given the opportunity to be an advocate.