Dr. David Colbourne is Named TouroCOM's Teacher of the Year
From MedSim Professor to Inspirational Lecturer: TouroCOM's Doctor Who Dons Many Hats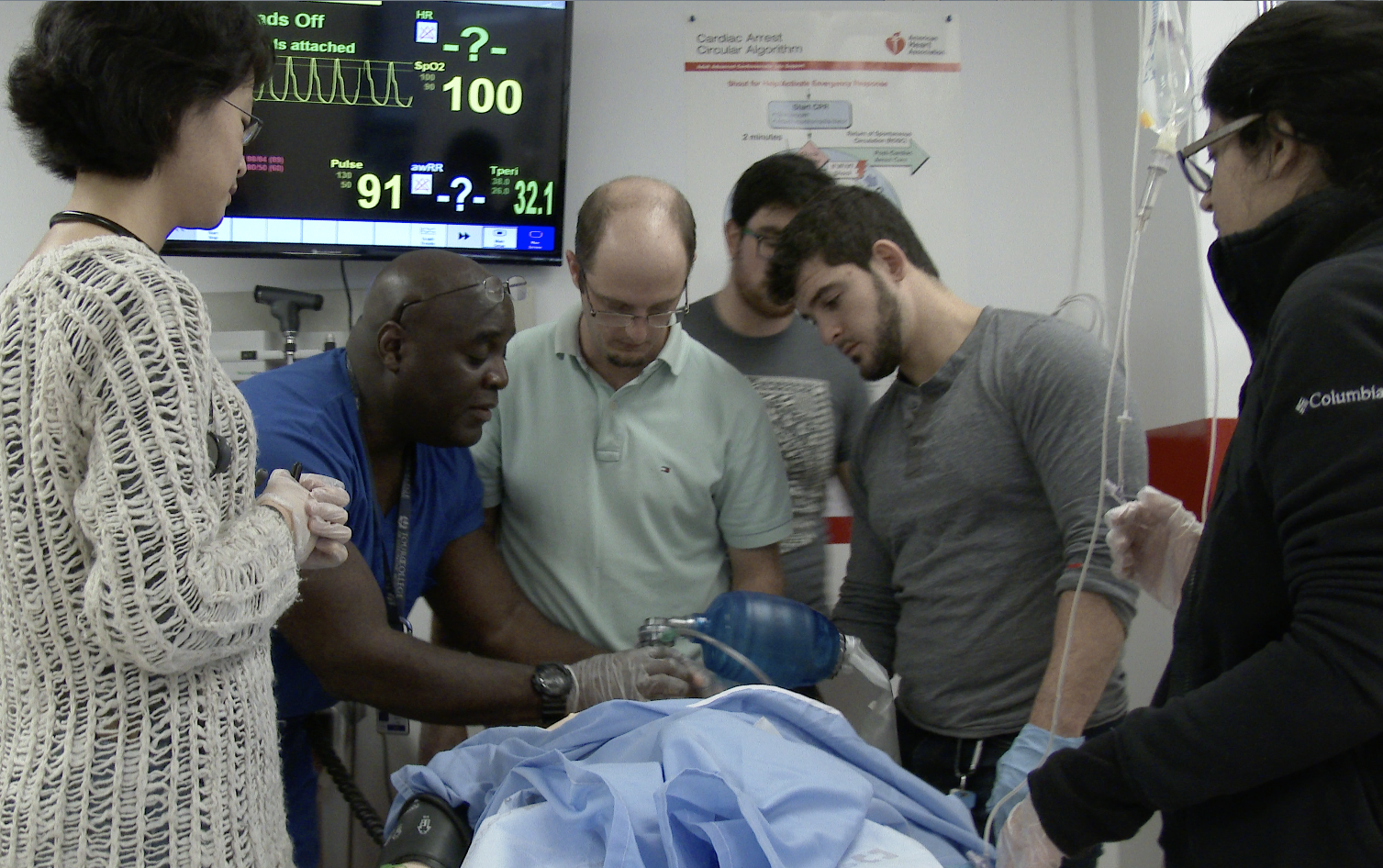 Dr. David Colbourne in the medsim lab with his students.
Teaching medical students and operating a simulation lab is enough to keep someone on their toes, but for Dr. David Colbourne, Medical Simulation Specialist in the Department of Primary Care at Touro College of Osteopathic Medicine, that is just one of the many responsibilities he carries. Dr. Colbourne also logs 16 hours of paramedic work with the NYC 911 system on weekends, trains paramedics, and mentors students regularly. At the heart of his multifaceted personality is his commitment to inspire adolescents—both at his home base at Touro, and across the country—to become the next generation of doctors.
"If you have a dream, you can, with a plan, achieve it"..."You must believe you can do this." These are the mottos he lives by and strives to impart to his students and mentees.
It is no wonder, then, that Dr. Colbourne is the recipient of the prestigious Teacher of the Year award, an honor he humbly acknowledges, yet insists it's thanks to his students, and God—not his tireless work.
His students see it differently, and rightly so. "He is an inspiration to me," Daniel Hekmat, a second-year medical student at TouroCOM and a mentee of Dr. Colbourne, wrote in an email. "Anytime I speak to him regarding school, his assurance that everything will go well helps me mentally in a way that no other faculty matches."
When Dr. Colbourne went from adjunct to fulltime faculty at Touro College of Osteopathic Medicine in 2014, medical simulation was an elective course. The college's objective, he said in an interview, was to change that to something that was part of the curriculum, which would allow all 135 second year medical students to take the course. There was one problem, though: the college's simulation lab was in a modest "room"—not a center, not exactly a place conducive to teaching a sizable student body, and to accommodate Dr. Colbourne's ambitions. When the new expanded lab was built down the block that summer, Dr. Colbourne himself wheeled the simulation equipment over to the new center, and immediately got to work on building a state-of-the-art facility, complete emergency room, an ob-gyn and pediatrics area, five debriefing rooms and a task training room.
In the past, traditional medical training involved pouring over texts, then practicing on a live patient. The first time a student knew whether a treatment or procedure was done right was on a live person, with all the risks that entailed. But when medical simulation went mainstream, all that changed. Students can now go from textbooks to practicing on a simulator in a controlled and safe environment. "Almost everything that a human person does, can be programmed into the simulators," Dr. Colbourne said. "They breathe, they talk, have heart beats, and bleed. They have breath sounds, bowel sounds, their pupils change size, they blink, change color, sweat and can have a seizure."
In addition, TouroCOM's simulation lab boasts an emergency room with monitors that display vital signs, EKG, pulse oximetry, capnography, as well as other parameters. As students examine their "patients," the high tech simulators, everything gets recorded. When the students finish the simulation exercise, Dr. Colbourne and his colleagues move them into one of the debriefing rooms. This is where the true learning takes place. Students view the recorded simulation, express their feelings, their understanding of the simulation, and review their performance.
A man of conviction and faith, Dr. Colbourne believes that the job he loves is a higher calling. "God gives you subtle hints directing you where you are supposed to be and what you are supposed to do. Sometimes you don't realize it. Doors open to you. You don't understand why. Suddenly you find yourself in the midst of what you're meant to do." He believes in personalized and interactive teaching that allows each individual to learn, and shine.
"I don't believe in death by PowerPoint."
Dr. Colbourne is comfortable working hard and having endless days, and it's all thanks to his mother—"one of the most remarkable people I've had the opportunity to learn from," he said. She often taught her kids through a series of stories that she created called the "little Johnny stories". Dr. Colbourne credits those stories and his mothers' teachings with saving his life. His mother believed in something called "Packing a Lunch." She told all of her children: "in life you must extend yourself. Go somewhere you have never gone before. Meet and interact with people you have never seen before. Learn about them and teach them about you. The most important thing is you MUST GO ALONE. That is the only way you will grow and truly learn about yourself." She became very sick with diabetes, hypertension, and congestive heart failure when Dr. Colbourne was in high school. Her illness and the lack of access to good health care inspired him to pursue medicine.
Dr. Colbourne comes from a humbling background, and his journey to success is nothing short of astonishing. One of 15 children, six biological and 9 adopted, Dr. Colbourne grew up with little, and worked during the summers of his youth to pay for his private Catholic schooling. When he went off to college, he became a resident advisor, worked 3-4 jobs to pay his way through college, and even sent some money to help his mother pay the bills at home. "Most kids called to ask for money, but I sent money home," Dr. Colbourne explained. "She [his mother] would say 'the lights are out,' and I'd ask 'how much is it?' and send the money home."
This unrelenting dedication to family and colleagues has followed Dr. Colbourne into the classroom, and is one of the many reasons he was nominated for the Teacher of the Year award. "There have been many occasions that he will stay after school hours to go over material and ensure that every student has a complete and thorough understanding of the material," Tatiana Carrillo, one of Dr. Colbourne's students, wrote. He is invested in the success of his students, she continued, and is selfless and caring. "It has truly been a privilege to have him as a professor."
Imparting his stellar work ethic and "you can do it" attitude to the underprivileged adolescents across the country is something Dr. Colbourne is passionate about. He takes great pride in his ability to influence young students to dream big and work their way to the top. If he could do it, his example could inspire others to strive and achieve.