Climbing to the Top
TouroCOM-Harlem is pleased to announce Celsa Tonelli as Student D.O. of the Year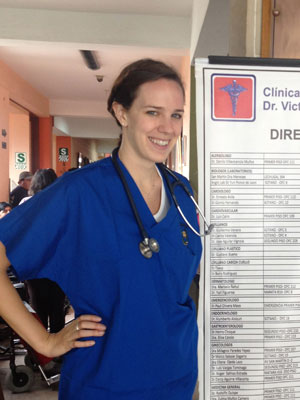 The Touro College of Osteopathic Medicine-Harlem Selection Committee recently announced Celsa Tonelli as their candidate for Student D.O. of the Year.
"Of the many great qualities that came to mind when considering Celsa for Touro's Student DO of the Year, the most distinct was her leadership," said Tieg Erin Beazer, a second-year medical student and a member of the D.O. Student of the Year Committee. "Celsa has fulfilled multiple leadership positions both in school and in the community with absolute excellence, and she embodies what we believe the osteopathic profession stands for."
Tonelli, a second-year student graduating in 2017, holds active roles in the American Medical Association (AMA). As president of TouroCOM's chapter of the AMA - Medical Student Section (MSS), she works to educate the Harlem community about medical concerns and health care. She was also recently elected to the AMA House of Delegates as the New York State delegate for health care advocacy, in which she represents the interests of all medical students in the state. In this role, she lobbies for increased funding for residency positions, brings in speakers to lecture to TouroCOM-Harlem students, and is responsible for coordinating their biannual health fair. Last year she participated in AMA's Global Health Challenge, in which her team (representing TouroCOM) became one of the top five finalists in the country.
"It kinda became a whirlwind," she says, laughing, when asked about her involvement with the AMA. "Once I started going to meetings and learning more about what they were doing, I became really interested. I became chapter president, and I started to pursue so many opportunities with them. It was all very exciting."
The student physician volunteers out of the classroom as well. In her spare time, Tonelli tutors first-year students in neuroanatomy, histology and osteopathic manipulative medicine. She works as a teaching assistant for children in the Harlem community and is a Resident Assistant at the International House of New York, where she won a grant scholarship. Last December, through a trip organized by TouroCOM's International Medicine Club and the Institute for Field Research Expeditions, she traveled with a group of her peers to Peru to provide volunteer healthcare services to the underserved population.
"I think it was moving to New York, and specifically into the International House of New York, that sparked my desire to become involved in international projects," says Tonelli. "Being able to live and interact on a daily basis with people from all over the world, who come from very different backgrounds than my own, made me interested in traveling and experiencing other cultures first hand."
But even before moving to New York, Tonelli learned the importance of serving others at a young age. Growing up in the suburbs of San Francisco, Celsa's parents were both employed in the helping profession: Celsa's mother, a speech therapist, spent her time working with hard-of-hearing children, and her father owned a small family pharmacy in the Bay Area. "Watching my father interact with his patients was a big inspiration. He's my role model, and I hope to someday be as good with patients as he is with his." And for the Tonelli family, "community service was always a big part of our lives." Celsa spent hours volunteering alongside her parents in local soup kitchens as a child. In high school, she started volunteering at women's shelters and Native American reservations in Oklahoma. She continued her community service in college at the University of Oregon as the Philanthropy Chair of the school's Pan-Hellenic Council.
Medicine, Celsa says, was a perfect blend of her two interests: science and service.
Celsa first entered TouroCOM as a master's student in the Interdisciplinary Studies program. "Being part of the master's program gave me the opportunity to practice my study skills and show that I can handle a medical school curriculum." Because the dedicated student self-admittedly worked "very hard" to be accepted into the D.O. program, she says she was "doubly excited and humbled" upon being selected as the Student D.O. of the Year.
"It is also very exciting to be able to represent my school, which has provided me with support and countless opportunities that have enriched my medical school experience," she said.
Though Tonelli is still unsure about which field she'd like to specialize in, her top choices are neuroscience, emergency medicine and pediatrics. In the future, she said she also "hopes to be able to work abroad to bring health care to countries and people who need it most."
The candidate selected by every school as Student DO of the Year competes on the national level for the National Student D.O. of the Year award, sponsored by the American Association of Colleges of Osteopathic Medicine (AACOM). Last year, TouroCOM's very own Michael Erickson won the National award from among more than 18,000 medical students in America.