Class of 2017 Celebrates White Coat Ceremony
TouroCOM-Harlem students don white coats in preparation for clinical rotations.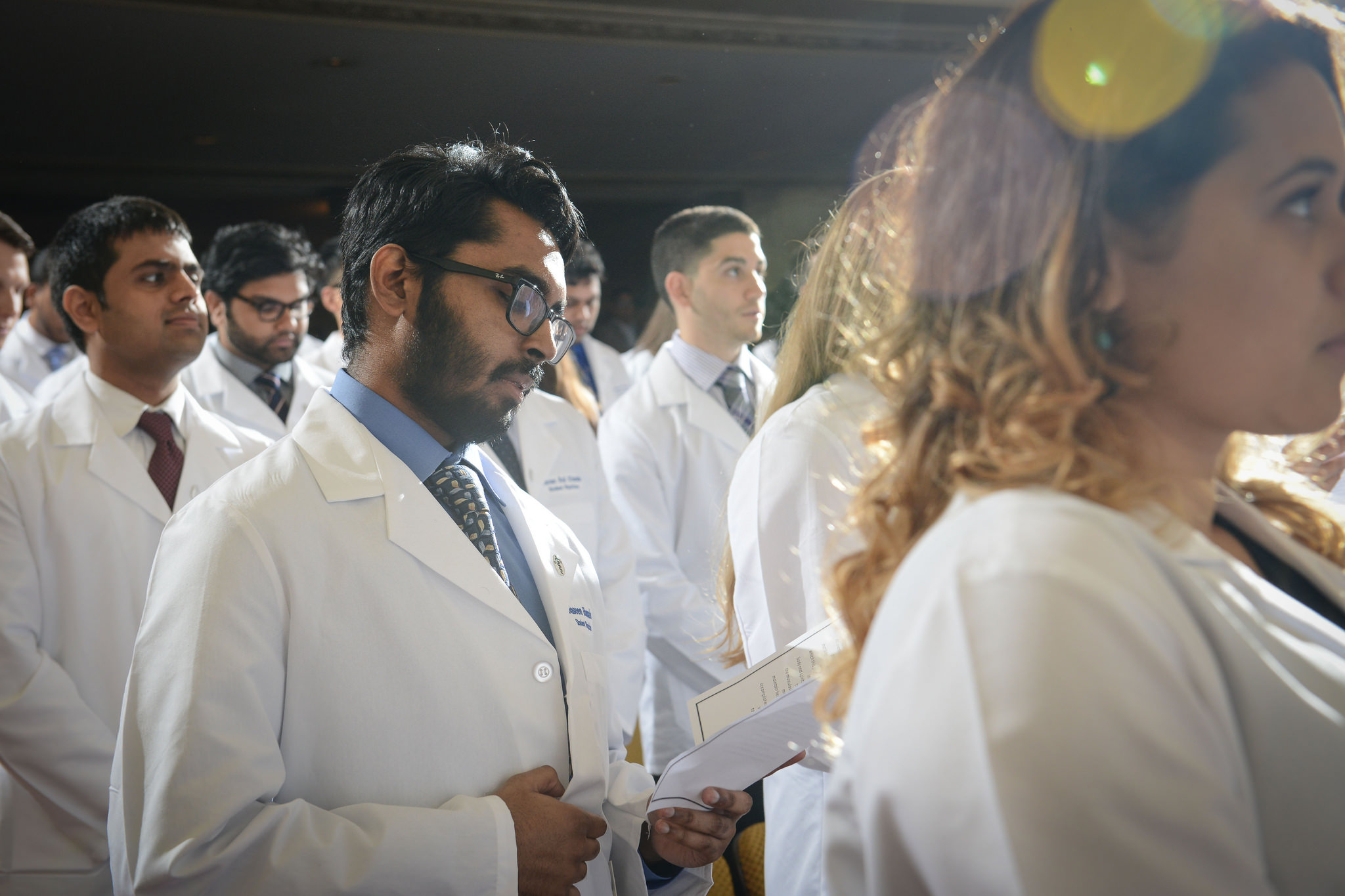 On May 18, 2015, the Touro College of Osteopathic Medicine (TouroCOM)-Harlem held the class of 2017's White Coat Ceremony—an official mark of a medical student's transition from preclinical studies into clinical practice, the classroom to the hospital—at the New York Academy of Medicine in the Upper East Side of Manhattan.
In his opening remarks, Dean Robert Goldberg spoke about recognizing each student's achievements in reaching this momentous occasion. "To be a doctor is a privilege bestowed on a select few. You are one of the few," he said. "When you accept and don your white coat, you are bound to the promise to do what is in the best interest of your patients throughout your life."
Dean of Student Affairs Nadege Dady, who emceed the event, delivered an introductory address. Rabbi Baruch Fogel bestowed invocations on the class following second-year student Alexander Yuan's recitation of the Pledge of Allegiance, and TouroCOM Dean of Clinical Education Kenneth J. Steier officially welcomed the second-year students to clinical life.
The keynote speaker of the evening was nine-time Emmy-award-winning medical journalist Dr. Max Gomez, who serves on several prestigious science boards, including the American Heart Association, and has produced countless health and science segments for national television. The scientist delivered a passionate presentation on keeping up with advancements in medicine as the students progress through their medical career.
"During your careers, you will see things occur that will dwarf what previous generations have witnessed. Disease-specific genomes will be decoded, making diseases once-thought untouchable, conquerable. Abdominal surgery will be done without so much as touching the skin with a scalpel. Replacement organs and limbs will be grown in laboratories from our own stem cells.
"Medical knowledge is expanding so fast that the knowledge you gain today might become outdated tomorrow. As osteopathic physicians, you must maintain the ability to learn new concepts and approaches to caring for your patients. Your education must not end when you graduate," he said. "It will have to be a lifelong endeavor."
Teacher of the Year Dr. Mario Pino presented the student awards; and, as is tradition, students recited the Osteopathic Pledge and OMS Oath of Commitment. Michael Ward and Lukas Holt delivered entertaining student addresses that received standing ovations.
Then, as family and friends cheered, the second-year medical students went on stage to receive and don their new white coats that represented their entry to clinical practice. Congratulations and good luck, class of 2017!
Awards:
Excellence and Achievement in Objective Structured Clinical Examination Award: Daniel Barbash
Excellence in Community Outreach Award: Daniel Barbash; Ilana Stein; Michael Ward; Payal Aggarwal; Terrence Tian; Tieg Beazer
Osteopathic Manipulative Medicine Teachers Assistant Award: Daniel Barbash; Julia Brothers; Nicole Webb; Kevin Lemaire;
Celsa Tonelli, Christina Gomez, James Kostek, Jason Estes, Jason Fidel, Jay Patel, Kate Brown, Diana Rivers, Laura Rubinfeld, Laura Schiraldi, Lisa Xiao, Marta Sandres, Norman Nicol, Priyal Bhagat, Reece Bergstrom, Sabeen Khalid, Shannon Caesar- Peterson
Excellence in Behavioral Medicine: Daniel Bemporad
Academic Excellence on Pathology: Chukwudi Onyemekwu; Nicole Webb
Excellence in Medical Microbiology & Immunology: Chukwudi Onyemekwu
Excellence and Achievement in Clinical Systems 1 Course: Chukwudi Onyemekwu
Excellence and Achievement I Clinical Systems 2 Course: Chukwudi Onyemekwu
Pathology Journal Award: Emily Rosenfeld
Excellence in Osteopathic Manipulative Medicine Award: Julia Brothers
Excellence and Achievement in Pharmacology Award: Mark Mikhitarian; Sally Ziatabar
Student Ambassador Award: Michael Ward; Payal Aggarwal; Kevin Lemaire; Navdeep Sangha
Excellence in Primary Care Skills Award: Payal Aggarwal