A Tree Grows in Middletown
Atop one of the tallest hills in Middletown, New York now stands a twelve-foot Crimson King maple tree dedicated to Touro College of Osteopathic Medicine–Middletown by its inaugural class.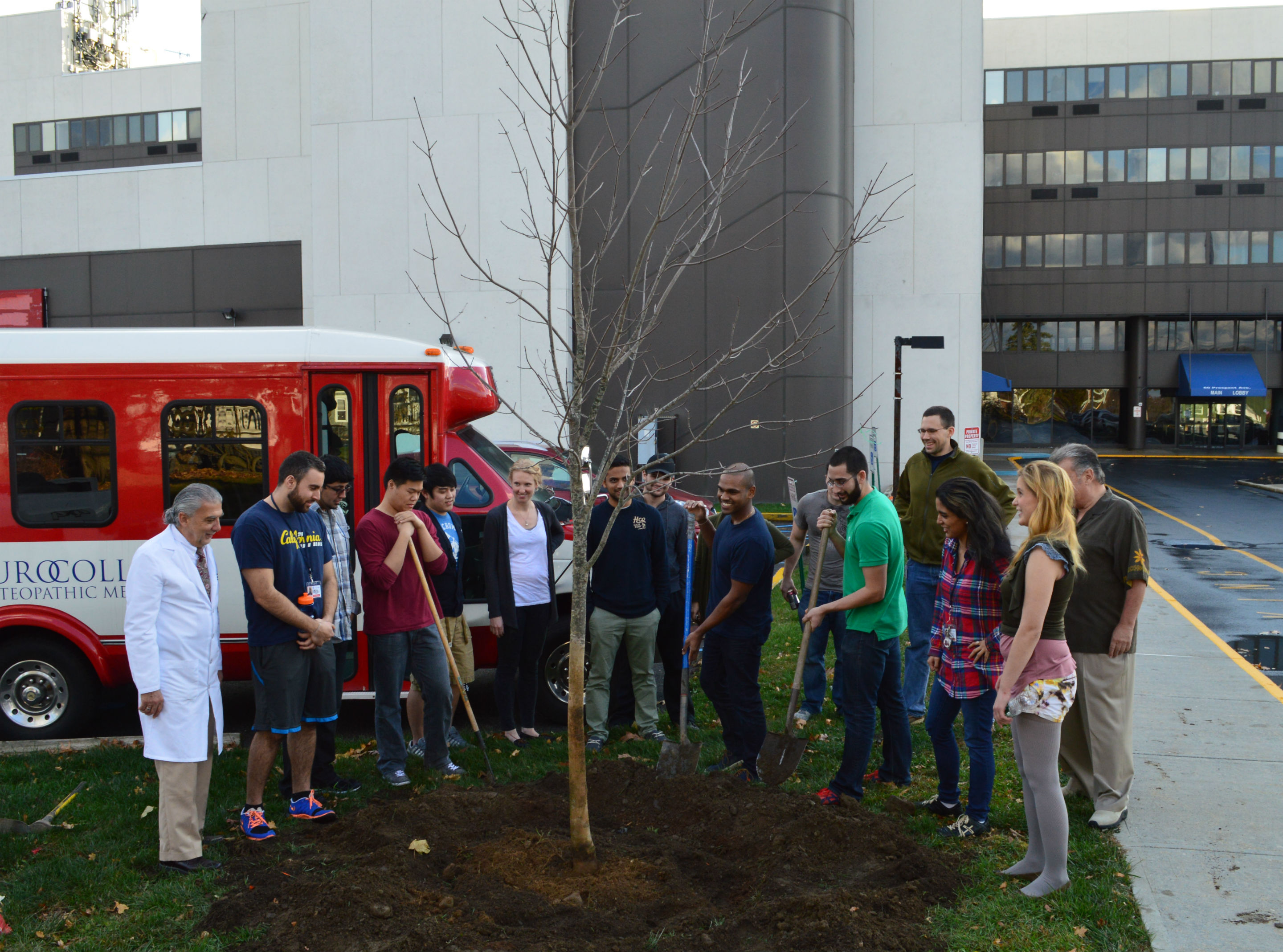 Students from the class of 2018, and faculty, gather around the newly planted Crimson King maple tree during its dedication ceremony.
The students who spearheaded the endeavor, Neomal Muthumala and Sam Sirotnikov, said that they wanted to do something that would help Touro College of Osteopathic Medicine remember their inaugural class. A tree, they said, would be perfect.
"The tree will grow as we grow," said Muthamala. "While there will be many changes throughout the years, the tree can be a constant we can go back to. It would help us remember each other through this tree and all the memories we shared together as a class."
After speaking to a tree expert who walked them through a number of choices, the two student coordinators finally decided on the Crimson King maple. Why? "It would be easy to maintain but also capable of surviving the harsh winters out here in Middletown," said Muthumala, "and its unique foliage was something that few of us had seen before."
According to student Devin Stephenson, the newly planted tree symbolizes the first way the Middletown Class of 2018 is giving back to TouroCOM. "We want to be a part of the growth of the campus, even years after we have graduated. The planting of the inaugural class tree at the entrance loop to TouroCOM achieves that."
TouroCOM-Middletown's Founding Dean Dr. Kenneth Steier added that planting a tree on a medical school campus represents "the growth of knowledge which takes place in every student."
"As with the turn of seasons, each new class is admitted to study medicine and experience this expansion of knowledge," he said.
The project was approved by Dr. Jerry Cammarata, and organized by TouroCOM-Middletown admissions counselor Francis Rose. Mr. Tony Danza and the Danza Leser Group funded the planting of the tree.
"It is my wish that all who see the newly planted tree in front of the medical school at the Horton Complex will reflect upon the hundreds and eventually thousands of medical school students who dedicated their lives to the practice of medicine so the people of Middletown, New York and our country will be able to live healthier lives," said Mr. Danza.