Silent Art Auction hosted by SAAO, co-sponsored by Creative Arts in Medicine
DeStefano's Olde Erie Pub and Grille
7 W Main St, Middletown, NY 10940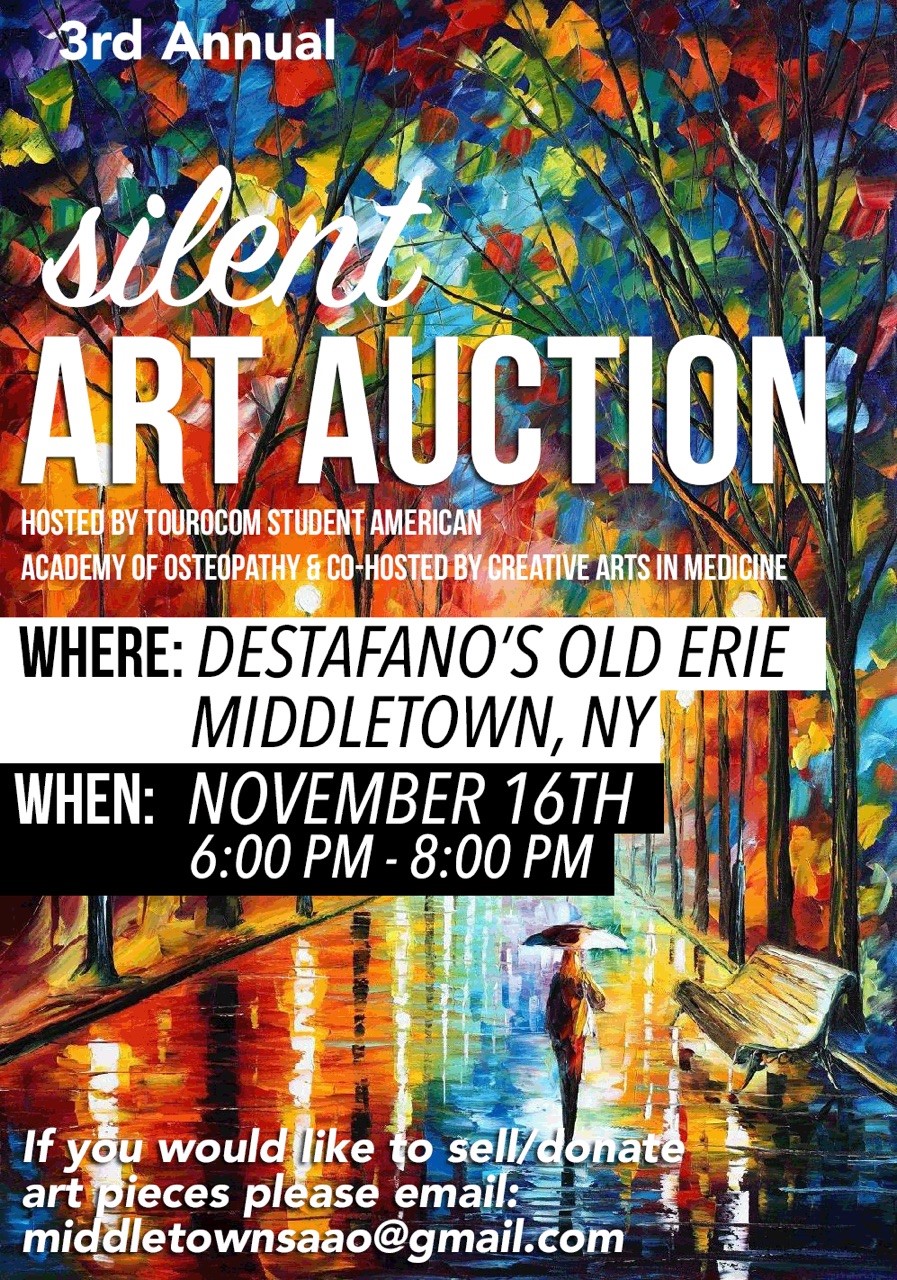 Who:
Touro College of Osteopathic Medicine - Middletown
When:
November 16, 2017, 6:00 PM - November 16, 2017, 9:00 AM
Where:
DeStefano\'s Olde Erie Pub and Grille
7 W Main St, Middletown, NY 10940
You are cordially invited to our Annual Silent Art Auction hosted by the Student American Academy of Osteopathy and co-sponsored by Creative Arts in Medicine.
We would like to create a fund for students to attend Convocation 2018, which is a conference geared towards learning even more about Osteopathic Medicine and helping students fulfill their passions and interests in our field.
We are hosting our annual Art Auction fundraiser on Thursday, November 16th 6-8pm, at DeStefano's Old Erie Pub and Grille.
Currently, we are reaching out to artists who are willing to donate their artwork, whether it be small sculptures, handmade jewelry, paintings or anything that can fit in the space comfortably. All artists will be able to receive up to 30% of the commission for their work if it gets sold, and the pieces will be returned if not.
If you are interested in donating, please add your name and the pieces you would like to donate here.
To ensure that we are able to cater to all of our guests, please RSVP here!
We would appreciate if you would share with your colleagues, friends, physicians and Middletown community members who may be interested in attending!
See you there!