Salvatore J. Sclafani
Orthopedic Research
Salvatore J. Sclafani
TouroCOM-Middletown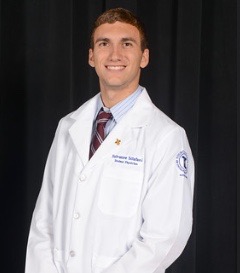 Coming from a family of orthopedic surgeons, Salvatore Sclafani had seen his fair share of surgical procedures growing up. However, this summer, with a year of medical school under his belt, he was now able to apply the knowledge he had gained to a research study during his internship with Dr. Anthony Scillia, an orthopedic surgeon at Atlantic Sports Health in New Jersey.
Sclafani assisted with Dr. Scillia's research study on bone marrow stem cell injections called "Bone Marrow Aspirate Concentration." The pool of participants comprised of patients with cartilaginous, tendinous, and ligamentous injuries of the shoulder, knee, and hip. The team's objective was to contribute to the evidence of other studies that have demonstrated the benefits of using bone marrow stem cells in the repair of soft tissue injuries. Sclafani participated in the study by informing potential candidates about the study, observing surgery, and following up on the patients' progress at predetermined time intervals.
Because of his passion to become an orthopedic surgeon, the experience as a whole was very fulfilling to the medical student. "As Dr. Scillia was operating, he explained each step in great detail," said Sclafani. "In addition to recognizing anatomical structures, I was able to apply what I had learned in other classes, such as immunology, microbiology, biochemistry, physiology, and pharmacology, to the understanding of the surgical and recovery processes."
Sclafani also witnessed several success stories. "While I was typing up a note for the research project, I was called into one of the exam rooms to meet a patient that had suffered from severe rheumatoid arthritis in the knees. The patient had been wheelchair bound for several years. However, after undergoing bilateral knee replacements earlier in the year, the patient was walking on both feet again. I was stunned after learning the progress the patient had made. And just…that look on her face – she was so happy and grateful. It was an amazing feeling to know that I could one day have the same impact on a future patient."
Another important aspect to Sclafani's internship was developing a valuable professional relationship with his mentor. "Dr. Scillia is a young physician who was easy to talk to and always willing to answer questions. It was very beneficial to talk to him about the process of medical school and residency, especially since these experiences are relatively recent for him.
The most impactful lesson he learned from the orthopedic surgeon? "That the relationship with the patient is one of the most important aspects of being a great physician. From meeting the patient for the first time, through developing a plan with them – Dr. Scillia explained their injury and gave the patient options. He always worked with them as a team to determine the best course of action to for the individual patient."
Sclafani will continue to be part of the research team for this project during the upcoming school year.