Nasir Malim
Islamic Bioethics
Nasir Malim, MPH
TouroCOM-Middletown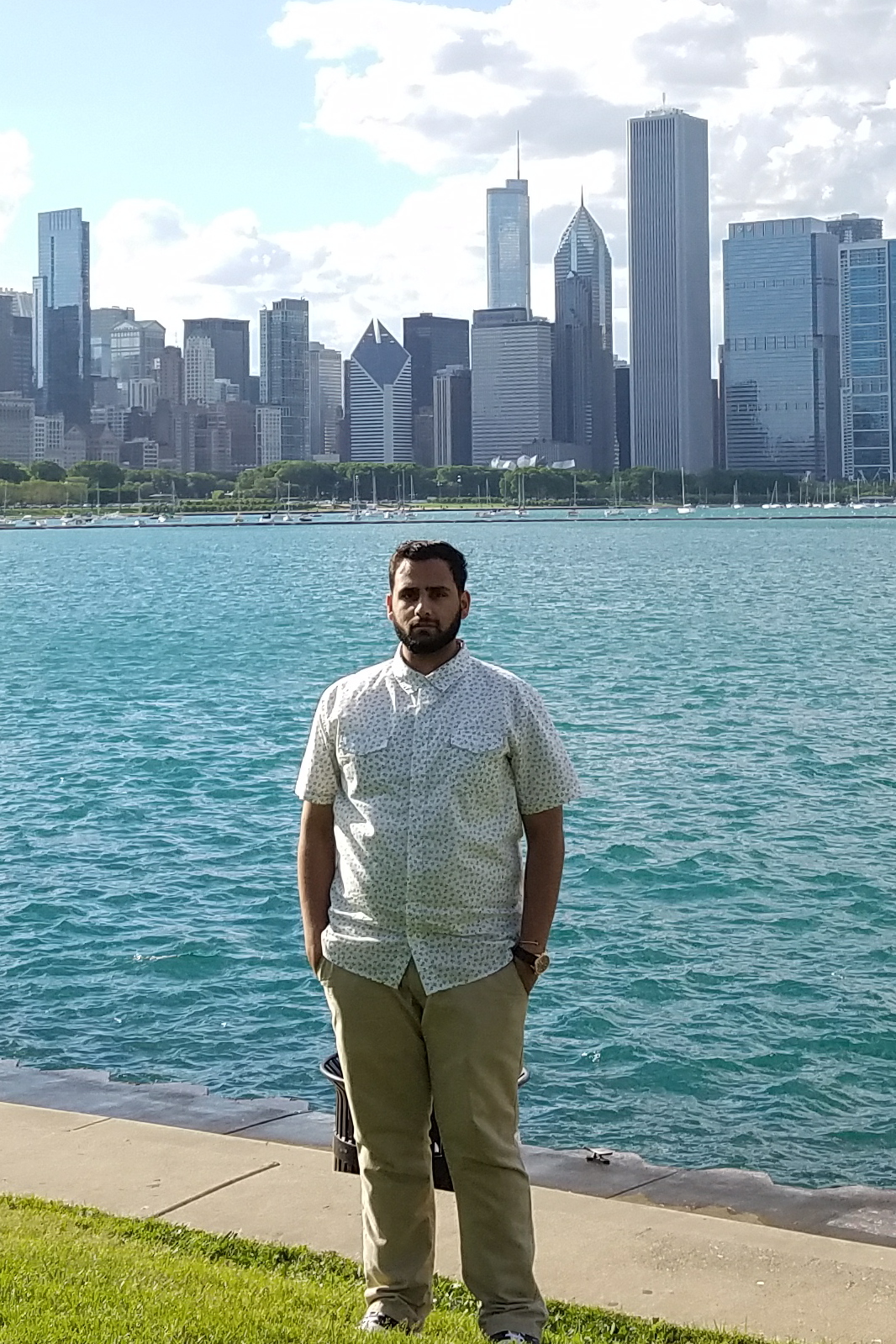 This past summer, Nasir Malim was selected as one of two medical student summer interns for the University of Chicago's Islamic Bioethics summer internship. The program, conducted through the medical school's Initiative on Islam and Medicine, was directed under the mentorship of Dr. Aasim Padela, one of the current leaders of Islamic Bioethics in America.
Malim, who spent his undergraduate years studying traditional African-American studies at UC Irvine and Islamic Sciences at a private seminary in the area, was initially attracted to bioethics because of his frustration with authority figures who weren't as knowledgeable in the sciences as they should have been. "I remember being told, as a kid, that soy sauce wasn't permissible to eat due to religious reasons--because it contained alcohol in it," he recalls. "Clearly there was a misunderstanding on his part, because although it's true that soy sauce contains acetic acid which is chemically an alcohol, this person—who was supposed to be more knowledgeable than myself— mistakenly took this as being an intoxicating alcohol, which is forbidden. These misunderstandings and gaps in knowledge were not as rare as I initially thought they would be." Part of the reason he took part in this internship, he said, was to "help relieve some of these issues that have arisen."
Malim's main task was to select a subject matter of his choosing and then examine its bioethical concerns—incorporating Islamic theology, philosophy, and legal thought into medical practice. One of his projects required him to write an article, meant for consumership by a general muslim "masjid-going" audience, on that subject matter. After some deliberation, Malim chose the topic of in vitro fertilization (IVF). His primary areas of focus were permissibility of donor sperm and egg, extrauterine development, and the general questions surrounding the ability or right to have offspring.
In his article he concludes that IVF appears to be an "Islamically sanctioned procedure within the confines of a valid marriage," but that "the procedures related to procuring the egg and sperm need to be assessed for Islamic validity." For example, he writes, the sperm needs to be procured through "licit sexual contact as opposed to other means," and all "regulations of modesty" need to be followed as much as possible. His final article, which received lots of positive feedback from both laypeople and those in the medical community, was published in the August edition of a Muslim community newsletter based out of Chicago. "People were surprised that the article went beyond discussing permissibility…they commented on how they felt some of the ethical deliberations were unique and significant, especially in the case of IVF considering an individual's ownership over one's body, absoluteness of seeking available medical treatment, and the importance of marital and familial bonds. I think people really appreciated the nuance." His final project, which he's still working on, is an academic paper on Islamic bioethical considerations of intersex and disorders of sex development patient care.
Malim, who appreciated the chance to sharpen his research and methodological skills through this unique internship, is excited to use these tools to focus, in the future, on underserved populations—whether through clinical practice or academia. He's specifically interested in the areas of social medicine and health disparities—his MPH had a focus on urban public health and health disparities. "I think my faith, along with my life experiences, like being raised in a single-parent household and growing up impoverished early on, helps me approach many aspects of my life through a social justice approach. Specifically, issues of justice, autonomy, and self-determination are important to me. My approach to medicine, I think, and my deep interest in health disparities, certainly works through this approach, too."
He's also grateful that the internship granted him the opportunity to live in Chicago for 2 months. "I thought it would be an enriching experience, especially visiting South Side Chicago—a historically underserved area of America."
Read more about Malim's summer in Chicago and his internship experience on his blog and Instagram account.