Anisha Lashkari
Emergency Medicine Research
Anisha Lashkari, MS, OMS-II
TouroCOM-Harlem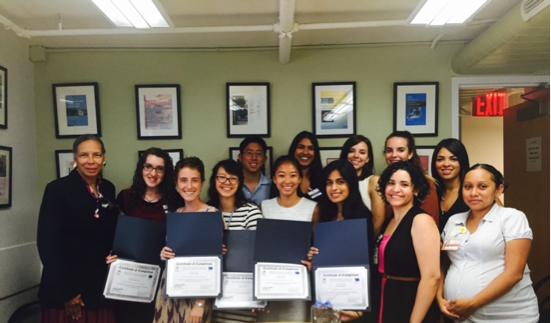 This summer, three TouroCOM-Harlem students—Anisha Lashkari, Elizabeth Chu and Yakira Abramowitz—were accepted to the competitive Summer Emergency Medicine Research Program at Mount Sinai Icahn School of Medicine. Among other opportunities, the program affords every intern the chance to bring an independent research project into development with the help of a matched faculty member at Mount Sinai who serves as individual student mentor.
Lashkari's research project—conducted with mentor Dr. Suzanne Bentley, an Emergency Medicine attending at Sinai—focused on assessing and improving team dynamics in the emergency department at the hospital.
The first part of their two-fold project investigated whether there's any correlation between self-assessment scores of the team leader and actual leadership skills. Lashkari asked the residents (team leaders) to self-rate their performance on how they think they did after a cardiac arrest or trauma, and compared their individual assessment scores with that of an expert attending. The second part of the study examined whether utilizing interventions, like medical simulation, leads to improved team dynamics in a trauma or cardiac arrest setting. "Ultimately, we want to see whether using interventions like simulation eventually leads to better clinical outcomes for our patients."
At the conclusion of the internship, all participants were expected to deliver a 10- to 15-minute presentation on their research topic in front of faculty and mentors.
In addition to being involved in the research project, Lashkari was also exposed to clinical experiences. As an official member of the program, she was given permission to shadow any and all Mount Sinai physicians—not just in EM, but physicians in anesthesiology and internal medicine, too. Every week, she participated in weekly grand rounds and in didactic sessions where she learned about suturing and utilizing ultrasounds.
The Harlem student, who studied Neuroscience with minors in Psychology and Spanish at the University of Rochester, appreciated the well-roundedness of the internship program. She says she most enjoyed spending time in the simulation lab, an "ER-type of room filled with mannequins where we practiced medical procedures like chest compressions, intubations, and administering medications."
Her most memorable experience? "Probably when I participated in the adult code course at the simulation lab," remembers Lashkari. "I was treated like any other ER resident—I had to perform compressions on the mannequin as expected, administer appropriate medications when a patient underwent cardiac arrest, and I even got the chance to lead the code! And even though this all happened during simulation, it gave me a huge feeling of independence and ability to utilize what I learned in saving the patient. When I stepped foot in the ER and saw real traumas or cardiac arrests, I knew exactly what was going on and what needed to be done…"
Which is why Lashkari, who wants to pursue Emergency Medicine (EM) in the future, says that the summer only fortified her interest in EM. "The amount of clinical exposure I received through this program is something I'll be forever grateful for," she says.
Lashkari and Dr. Bentley are currently in the process of submitting an abstract for their research project.